"Scraping Business Data from Manta Made Easy!"
Manta is a massive source of business data and provides details that other sites like Google Maps just do not. Data like contact emails, yearly revenue, or number of employees. Other sites limit you to just basic name and address type data but not Manta. Which is why there is a huge demand for the information they have on businesses. Which is why I have created the Manta Scraper.
Based of my successful Local Scraper software, Manta Scraper allows you many options to dig down into Manta's Data and scrape it for your self. I have spent months developing and testing this scraper and now its ready for you to try out your self. We collect 22 fields of data and provide 2 different ways for you to drill down to exactly the data you are looking for. Making exact targeting simple and easy to do. All results will be scraped automatically and auto saved into an easy to use CSV format.
Please note that Manta.com has very strong anti-scraper protection on their site. This scraper will require you to solve Captcha's and purchase a large number of proxies to run. If you are not confident in using proxies I highly recommend you consider Local Scraper instead to get your data from a different source.
Here is the data you could be scraping from Manta with Manta Scraper.
Name
Street Address
Street Address 2
City
State
Zip
Owner Verified
Contact Name
Phone
Fax
Website
Email
Facebook
Twitter
Hours
Description
Category
Number of Employees
Yearly Revenue
Location Type
Year Established
Latitude
Longitude
Manta URL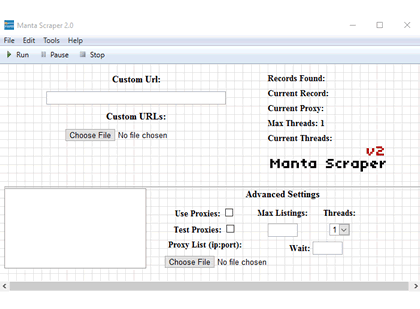 Coming Back Soon.
Pardon our dust while we work further on our Manta Scraper. In the mean time why not check out the Local Scraper Package Deal listed on the home page? It offers 9 scrapers for the price of one. Thats Google Maps, Yelp, Yahoo, Bing, and several Yellow Pages. One of these sites is sure to have similar data to what you were after at Manta. Click Here for More Details.
* Manta Scraper only supports Windows OS.
** Your purchase is for a Single License of Manta Scraper. Your Single License allows you to install the program on two computers.
*** Your payment is a 6 month reoccurring subscription. Your subscription insures you always have a 100% working and updated program.