"The most Advanced Yelp Scraper on the Market - Hands Down."
What could you do if you had access to Yelp's database? Would you build niche directory websites? Would you mass direct mail tens of thousands of businesses? What if I told you that there is a way that you can easily gain access to the same data that is on Yelp's website.
The tool you are looking for is a Yelp Scraper and it just so happens that you are in the right place. Local Scraper has the best Yelp Scraper on the market and we have been number one for years now. Over the last 5 years we have helped thousands of people much like your self scrape valuable data from Yelp and other similar websites.
No need to hire an expensive programmer and no need to pay data mining companies for completed databases. With Local Scraper you are in full control. Scrape as much data as you like in any niche that you need all with the press of a button. Our Yelp scraper works at all versions of Yelp USA and International.
Here is just some data you could be scraping from Yelp.
Name
Address
Category
Phone
Rating Numbers
Review Numbers
Website
ALL Business Details (Hours, Smoking, Caters, Wifi etc)
Email Data
Lat and Long GPS Data
and much much more!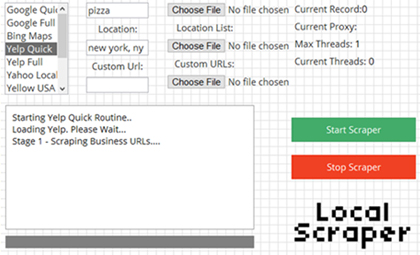 Our Yelp Scraper is included in the Local Scraper Package and sold separately as a single product. Please choose an option below. If you don't know which solution is right for you we recommend the package deal because it includes scrapers for Google Maps, Yahoo, Bing, and Yellow Pages as well.
Are you only looking for Unverified Businesses Listings at Yelp.com? Then check out Yelp Unverified a new custom built scraper just for you! Click here for details.