"Finding Unverified Yelp Listings Made Easy!"
Does your business rely on finding unverified business listings at Yelp.com? Do you currently hire an army of VA's to manually dig through results? Maybe you personally are going through the results? Well stop! Never do something manually that you can automate! With Yelp Unverified by Local Scraper I have made finding these businesses as easy as a touch of a button. Go out to lunch and let Yelp Unverified do the work for you!
Based of my successful Local Scraper software, Yelp Unverified allows you to dig down into Yelps's Data and scrape it for yourself. We collect 52 fields of data from Yelp.com and 3 different ways for you to drill down to exactly the data you are looking for. Making exact targeting simple and easy to do. All results will be scraped automatically and auto saved into an easy to use CSV format. Hidden reviews are no problem, we grab the rating and the review itself. Need Emails? Not a problem our built in Email Hunter system will visit the company's website and root out any emails for you. If you are working in reputation management and use Yelp.com for leads you have to check out Yelp Unverified!
Yelp Unverified works by using secret Google searches to find laser targeted unverified results from Yelp.com. The program then does all the work for you and scrapes all the business details including the customer reviews, their ratings, even contact emails. Making your lead generation as easy as the touch of a button.
Here is the data you could be scraping from Yelp.com with Yelp Unverified.
Name
Street Address
City
State
Zip
Owner Verified
Number of Reviews
Phone
Fax
Website
The First 5 Reviews and Ratings!
Hours
Category
ALL Business Details (Hours, Smoking, Caters, Wifi etc)
Latitude
Longitude
Yelp URL
Email
We collect over 52 columns of data so this is just a peak!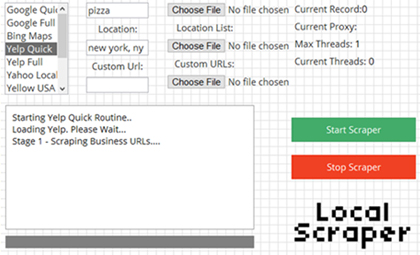 Get Instant Access to Yelp Unverified Scraper for only $49.99!
* Yelp Unverified only supports Windows OS.
** Your purchase is for a Single License of Yelp Unverified. Your Single License allows you to install the program on two computers.
*** Your payment is a 6 month reoccurring subscription. Your subscription insures you always have a 100% working and updated program.