The Most Advanced Home Advisor Scraper on the Market!
Home Advisor is one of the webs largest sites for contractors and professionals. They feature tens of thousands of real Customer Reviews who are paying for the leads that Home Advisor sends them. These businesses are the perfect clients because they have already shown that they will pay for leads sent to them! If you want to build anything remotely similar then these are the businesses you want to talk to!
That's why I built the Home Advisor scraper. I want to enable you the to have access to these companies. After over 5 years in the scraping business I know what I am doing and the Home Advisor Scraper is one of the most advanced scrapers I have made. Home Advisor Scraper doesn't get basic information like other similar products. Those other guys just give you 5-6 columns of data. My Home Advisor Scraper gives you a whopping 61 columns of data. You heard right! This isn't just some gimmick where I only give you the address. With Home Advisor Scraper you get things like the businesses license number, real user reviews and ratings, descriptions, categories, and more.
But that isn't all. I even go a step further! Do you want the real business phone number? I don't mean the one Home Advisor gives you. That is a fake number that connects you to home advisors call center. My Home Advisor Scraper will actually go to Google and try and find the real website and phone number for the business. A number that you can actually call and not get connected to Home Advisor. Think of the possibilities for your company if you could simply call them up.
Don't believe me? Here is a small sample Excel file showing you all of the data that you could have at your command. 61 columns of data! All contact details, major service categories, ratings, reviews, and real phone numbers! Download the Excel file from this link!
Here is just some of the data you could be scraping from Home Advisor.
Name
Street Address
City
State
Zip
Phone
Description
Profile Photo URL
Business License
Major Services
Rating Number
Review Number
Real User Reviews
Real User Ratings
Real Business Phone Number
Real Business Website
and so much more!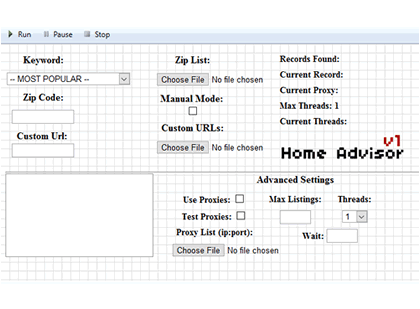 Order now and get instant access to the best Home Advisor Scraper on the Market!
Get Instant Access to Home Advisor Scraper for only $49.99!
* Home Advisor Scraper only supports Windows OS.
** Your purchase is for a Single License of Home Advisor Scraper. Your Single License allows you to install the program on two computers.
*** Your payment is a 6 month reoccurring subscription. Your subscription insures you always have a 100% working and updated program.