Local Scraper > Google Maps Scraper
Google Maps Scraper
Google Maps is the definitive source for data on business listings. No one has more data than Google Maps does. But they are not going to share that data it with the rest of us. That is why you need a Google Maps Scraper. With a google maps scraper such as Local Scraper you can simply collect the data that you want from Google without using any APIs. Use their data to populate your own databases of business listings, send out mass mailing campaigns, or just collect it for lead generation.
Local Scraper is a fully automated scraping solution. It offers the ability to scrape data simply by entering a keyword and location and pressing a single button. The google maps scraper will then open your web browser, go to google maps, enter in your search and then being to scrape information. It will automatically click on each listing and follow though search pages. In the bottom of the program you will be able to watch as business data is automatically populated into a table. This same information has been saved automatically to a CSV file as it continues to scrape. With this solution no data will be lost while scraping.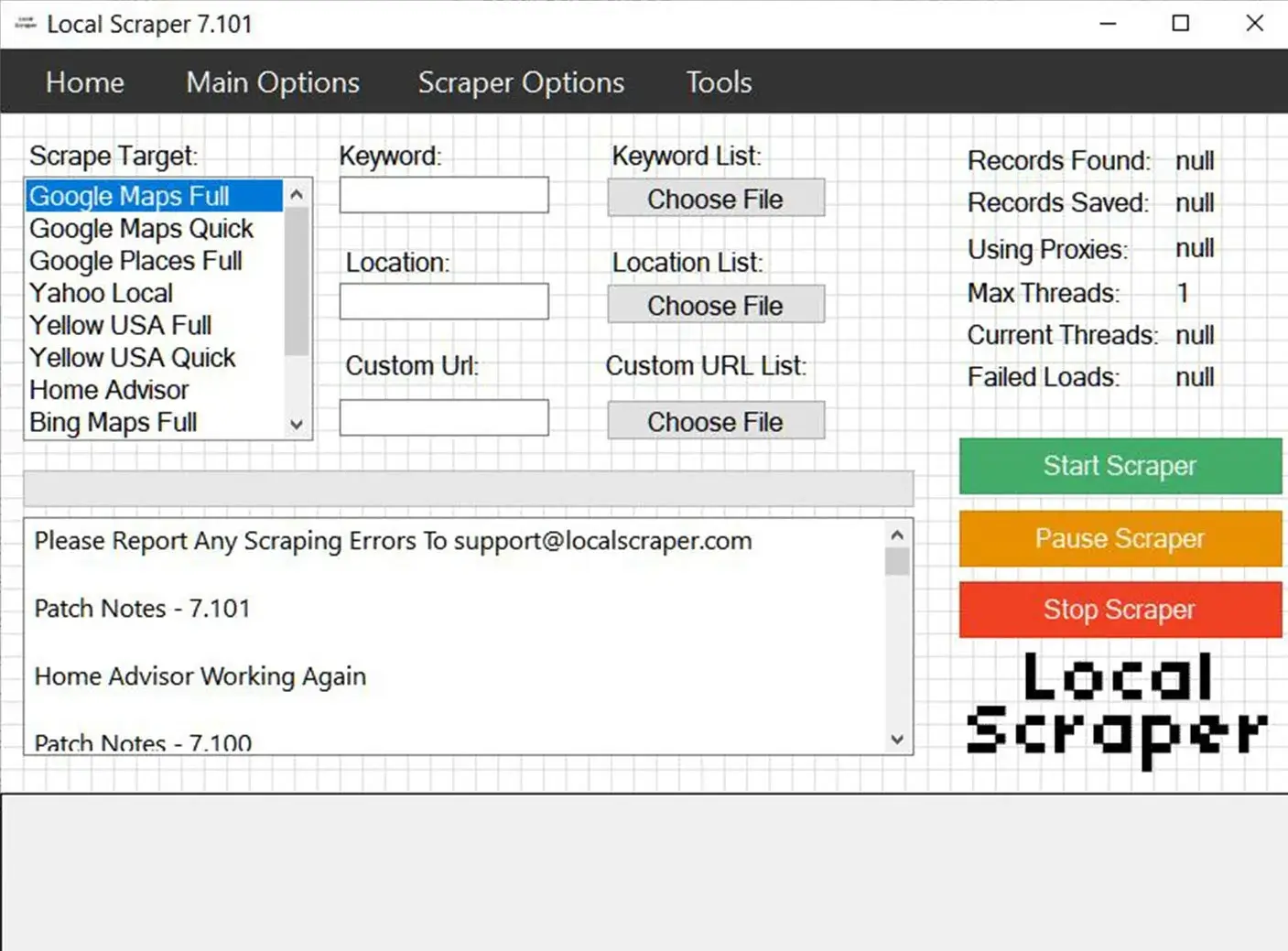 Name
Address
Lat / Long GPS Cords
Website
Phone
Rating
Reviews
Verified/Closed or Not
Hours
Price Range
Categories
Descriptions
Image URL
And More!
Program Features
Local Scraper is fully loaded with all the features you need to scrape successfully.
Full Proxy and VPN Support
Proxy and VPN support for anonymous scraping allowing you to scrape even more and for longer.
No API Used
Private browser used to mimic a real users, gather data without using api's or logins. This means no results limits on how much data you can scrape.
Program Automation
Use the lists feature to automate your scraping. Scrape data while at lunch or at home asleep. The bot keeps working even when you are not.
Email Scraping Capability
Use our optional built in Email Hunter system to find even more emails than before. Email Hunter checks the home, about, and contact us pages of the business website for a public email.
Complete Video Tutorials
New to scraping and data mining? Don't worry we have you covered. Get up and running in minutes with our video tutorials.
Easy to use CSV Exports
We auto save all of your data into easy to use and import csv files. Supported by Excel and most CRM systems.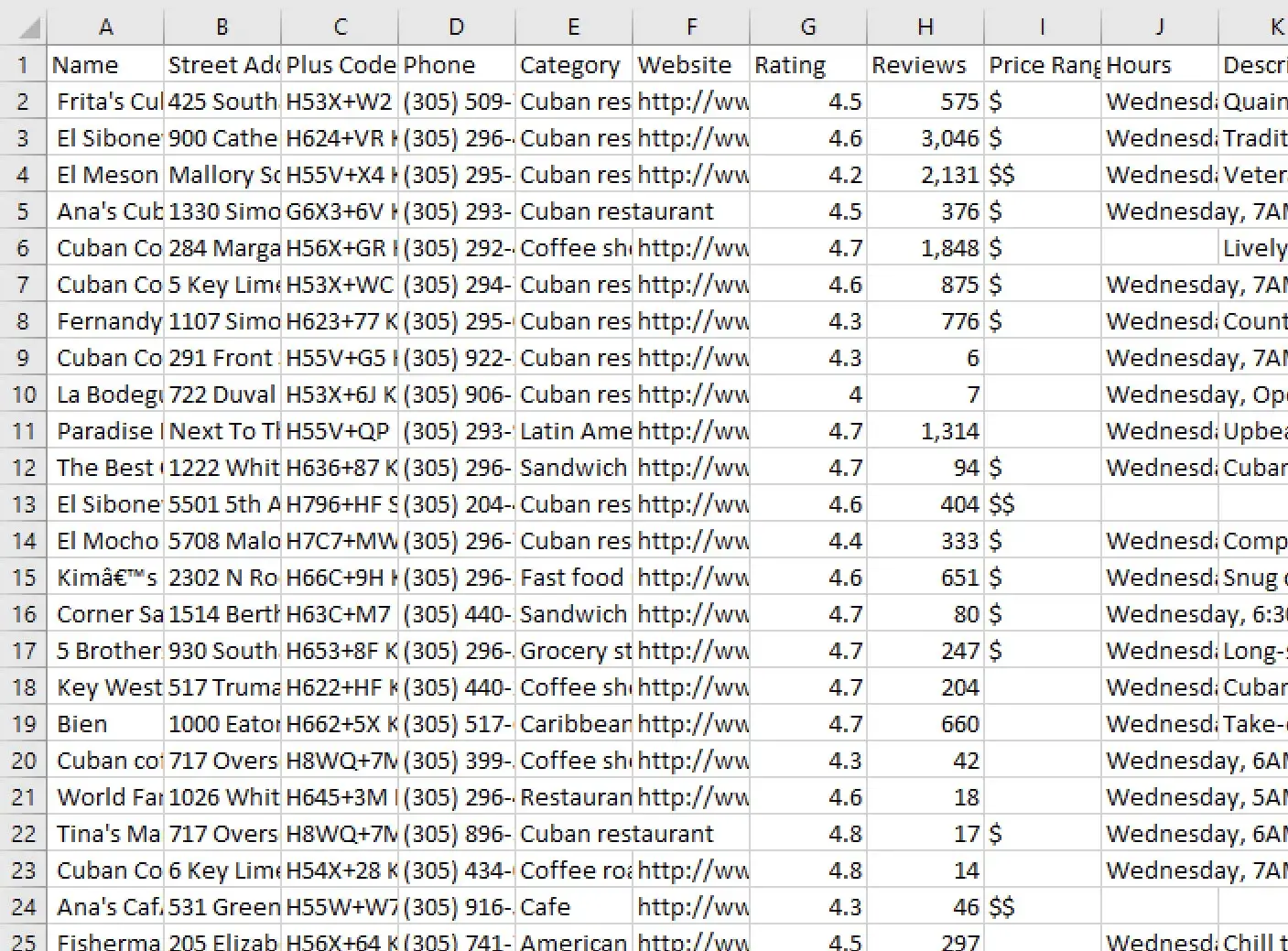 Data
More Data Than Anyone
Local Scraper goes above and beyond our competition. Our Google Maps Scraper is actually three separate Google Maps Scrapers all in the same program. We have the Google Full Scraper which is slower but gets more details from Google Maps, 42 total columns of data. The Google Quick scraper that is super fast but gets limited details from Google Maps it only gets 15 columns of data. Then we have the Google Places scraper which we just added that will scrape the same details as the Full scraper but from Google Places instead. You of course get basic contact details but we also scrape image urls, hours, pricing, user reviews, and more than I could possible list here. With our optional email hunter system turned on we also will check the business website for a public email and social media accounts given you even more data to work with.
Testimonials
What Client's Say
After using Local Scraper for a few months I truly can't imagine how we used to do business without it.
Great program, practically a business saver!
Since we started using Local Scraper our business has increased at least 10x fold. It's been an amazing asset to the company.
Buying Local Scraper was one of the best things my company has done, we use it almost daily.
Our latest website could have never been possible if it wasn't for the database we were able to build with Local Scraper.
Pricing Table
No Hidden Charges.
Choose Your Best Plan.
Clients and Counting
We know that not every job is the same that's why we provide two easy pricing options for customers. You can now tailor your subscription to better fit the size and scale of your scraping project. If you have a small scraping job or want to try out the program before committing long term then the one-month subscription is right for you. If you are interested in gathering more data consider the one year package and take advantage of the savings. Both options give you the same great scraper and support so there is no wrong choice!
* Local Scraper is a desktop software and requires Microsoft Windows to run
One Month Pricing
Most Popular
Local Scraper 7 in 1
Great for Short Term Projects
Auto-Billed Once Per Month
Cancel at Any Time
7 Supported Sites, 11 Scrapers
Guaranteed Support and Updates
Install on 2 Computers
No Result Limits
Full Proxy and VPN Support
30 Day Money Back Guarantee
Latest Update on July 20th 2023
Six Month Pricing
Local Scraper 7 in 1
Save $24 off Monthly Pricing
Auto-Billed Every Six Months
Cancel at Any Time
7 Supported Sites, 11 Scrapers
Guaranteed Support and Updates
Install on 2 Computers
No Result Limits
Full Proxy and VPN Support
30 Day Money Back Guarantee
Latest Update on July 20th 2023
Our Google Maps Scraper
How We Scrape Google Maps
Our Google Maps Scraper will take control of a portable copy of google chrome with an anonymous profile. Much like a private tab, none of your personal details will be shared with google other than the IP address of the computer running the scraper. You can be even more private by using proxies or a VPN to hide your IP address as well. The program is fully automatic once started, our Google Maps Scraper will go through each page of results that google gives us and click on each listing one-by-one to get the most data. If you need less data and want to scrape faster try the 'Google Quick' scraper included with the program which will scrape directly from the results page rather than from the listing page.
What is Included
Local Scraper is unique because we include 3 complete Google Maps Scrapers in the program. There is Google Full which will scrape maps listings one-by-one, its slow but has the most details. Then we have Google Quick which will scrape limited data but is very fast because it scrapes details from the search results page. Finally we have the new Google Places Scraper which scrapes full details from the maps section you find from a Google search. While it looks just like Google Maps and has similar data it works totally different so we have a new scraper just for section of their site.
No Hidden Costs
Unlike other scraping services we won't charge you per item you scrape or limit how much you can scrape. With Local Scraper's Google Maps Scraper you are in control. The program will run on your computer and automate its own browser you can watch go through listings right on your screen. We don't limit you on how much data you can scrape. Run the program as often as you like and as much as you like. For privacy reasons you may want proxies or a VPN but it's not normally needed for Google Maps. Your subscription to Local Scraper will include our 3 Google Scrapers, Scraper for 6 other websites, and allow you to run the program on two computers at the same time. Toss the program on an old laptop or VPS and double your data scraping.
Don't have time to Scrape?
Still want Google Maps Data but don't want to spend the time scraping it yourself? We can help! We have an existing database will millions of listings from Google Maps already scraped. We may already have the data you are looking for. Buying it directly from us could save you tons of time on your project. We can also run the scraper for you gathering fresh data. Contact us and tell us about your project and needs and we can tell you how we can help.
Request a Free Trial
Start your risk-free trial by filling out the form below. Download instructions will be sent to you by E-Mail.
Frequently Asked Questions
Local Scraper is a Subscription?
Local Scraper requires constant updates to continue to always have a 100% working solution. The program has near weekly updates and is always a work in progress. To offer the best product to our customers we need to stay on top of site changes and updates. So unlike other products your subscription guarantees your scrapers are always up to date and 100% working. Customers can UnSubscribe at any time from your PayPal account.
Can I run Local Scraper on my Mac?
How are results saved/exported?
Am I limited to X results?
What updates and support can I expect to receive?
What are the System Requirements?